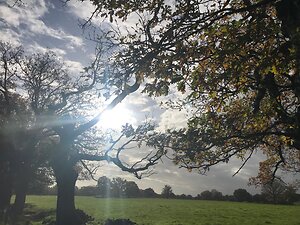 Walk and Talk therapy in Surrey - Alfold, Cranleigh and Godalming plus more. Walk and talk therapy in the Surrey Hills and surrounding villages.
What is there not to like about being out in nature? Walk and talk therapy energises the soul and offers a freedom where you are not contained in a room; you are outside in nature where the sky really is the limit!
Eco-Therapy / Walk and Talk Therapy Surrey
If you feel that being in an office, sat opposite a therapist, is not for you then walking side by side in nature may be just what you need.

With Eco-therapy, nature is our co-therapist.

Many people find walking amongst nature, grounding and healing and so this method of counselling may be very appealing to you.

Why is walk and talk therapy so beneficial?

It is known is that trees release anti-microbial essential oils called phytoncides. In nature these oils protect trees from germs and, what has now been known for decades, is that phytoncides contain a whole host of health benefits for humans too.

Benefits include:-

- boosting mood and the immune system
- stabalising blood pressure
- reducing stress and anxiety
- enhancing sleep
- improving focus and creativity
- engaging 'rest / digest' parasympathetic nervous system (suppressing sympathetic 'fight / flight')
- fighting depression symptoms
- lowering risk of terminal illnesses, i.e. cancer.

Mental health is so much more than just the mind; it is the meeting of mind, body and soul and outdoor therapy offers an alternative way to incorporate all three.

I offer walk and talk therapy in the surrounding areas of my home in Alfold (please note, as a route has to be risk assessed, I can not walk from any location).

So why not give it a try? You have nothing to lose and everything to gain!
Contact
Contact from website
Please click here to contact me directly from this website.


Email Contact
Email harmoniouscounselling@gmail.com
I will email you back the same day if a working day. Please be rest assured emails are confidential and only seen by me.


Telephone Contact
Call 07941 305511
If I am unable to answer please leave a brief message informing me of your enquiry along with your name, telephone number and when it is a good time for me to call you back.
Please note:- If your number is not familiar to me, and you do not leave a message, I will not call you back as I am aware this could be dangerous without knowing your individual situation.
My answering machine is confidential and your message will only be listened to by me.


Text / WhatsApp Contact
Text 07941 305511 to make an appointment.
If I am in an appointment I may not be able to answer you straight away yet I will get back to you as soon as I am able to.

Not ready yet?
If you feel you are not quite ready to commit to an appointment please feel free to message me. I have been where you are now and I am happy to help with your transition.
Friedrich Nietzsche said 'All truly great thoughts are conceived by walking" - what thoughts will you process walking? After all, life is about living and not just existing.

KATE HEAVEY BA (Hons) BACP (Accredited)
WALK AND TALK THERAPY SURREY. OUTDOOR THERAPY ALFOLD. WALK AND TALK COUNSELLING SURREY. WALK AND TALK THERAPY CRANLEIGH. OUTDOOR THERAPY LOXWOOD. NATURE THERAPY.